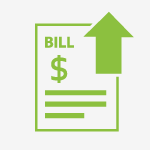 If you're experiencing higher-than-normal electric bills, but don't wish to complete a thorough audit of your home's energy usage, our high bill assessment might be right for you.
Our trained energy experts will conduct a walkthrough of your home and identify simple things you can do to help lower your usage and your bills. This assessment takes about an hour to complete.
Call us at 1-800-521-6144 for more information.